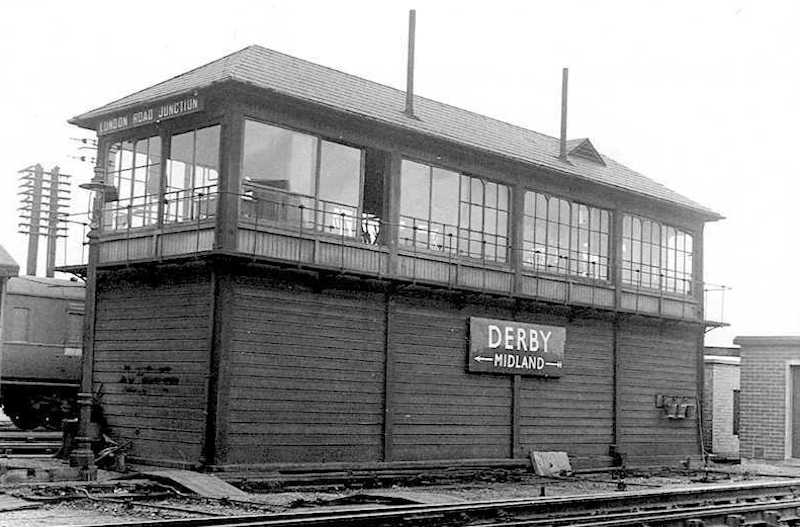 THE HISTORY OF MECHANICAL RAILWAY SIGNALLING IN THE DERBY AREA
Research into the mechanical signalling which once existed on the railways centred on Derby, encompassing Ambergate, Burton–on–Trent and Uttoxeter
Welcome to the Derby Signalling web site. This is a place for me to share the results of several years of research into the history of mechanical signalling, centred on the railways which came under the control of Derby Power Signal Box. I hope you find some useful and interesting material here. Even if railways in general, or signalling in particular, are not your "thing", there is plenty of local interest relating to the Derby area.
If this is your first visit, or you want a brief introduction to the history of railway signalling around Derby, then this essay is for you.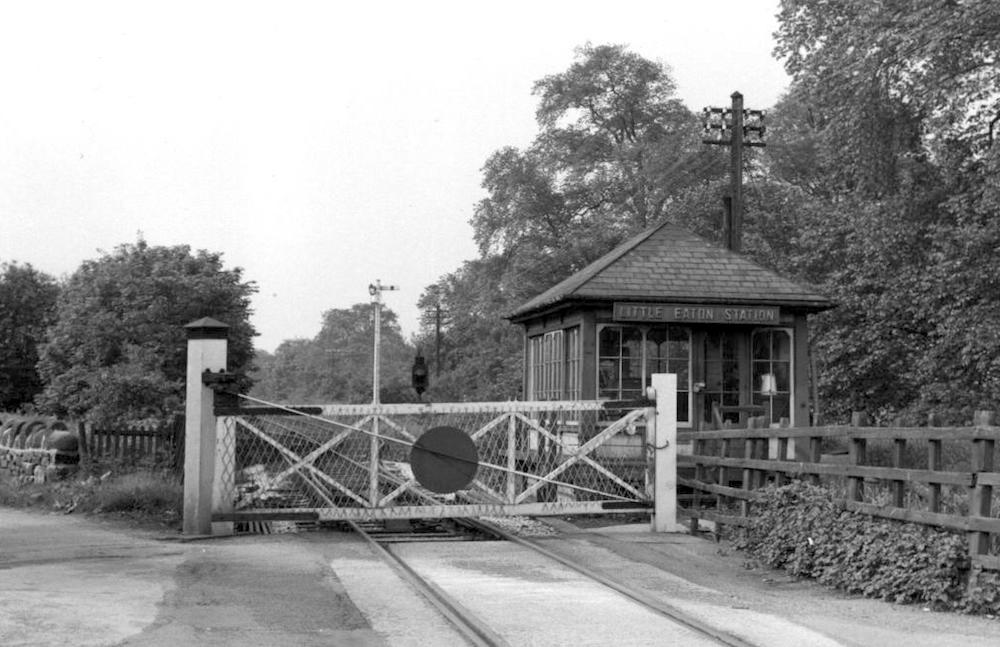 Contents of the Derby Signalling web site
Details of the Derby Area Signalling Project and research resources
Some articles of general interest about signalling in the Derby area
Focus on...
A series of studies of the signalling at specific locations within the Derby area. The intention of these articles is to detail the equipment, the men and the work done in the signal boxes, whilst giving an idea of the context of the surrounding railway.
More "miscellaneous" pages relating to specific signal boxes or areas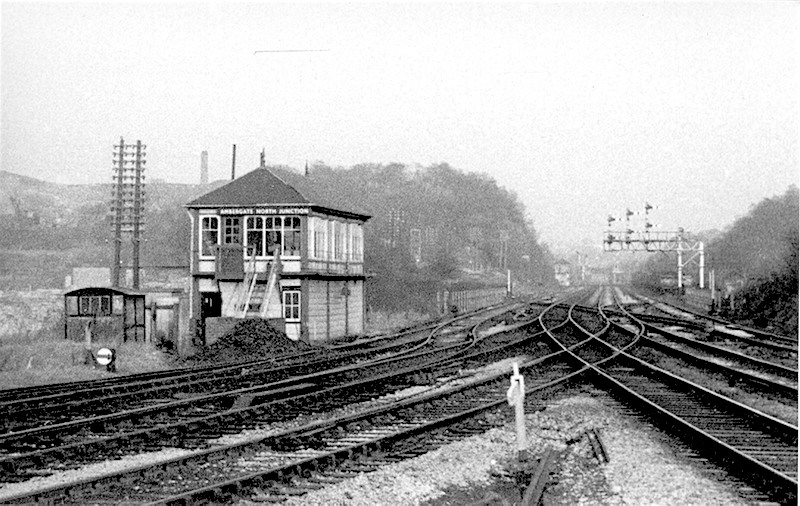 Resources relating to signalling in other areas
Nottingham to Lincoln — "Midland Microcosm"
As well as the Derby area, my other strong signalling interest is the Nottingham – Lincoln branch of the Midland Railway (I deliberately skipped over Trent and Nottingham as the signalling of those areas seemed too complicated to me!).
This site hosts an old version of a document that describes the signalling between Nottingham and Lincoln with a slightly more specific article dealing with Cottage Lane Crossing near Collingham, Notts. Otherwise, if you share an interest in this area, please get in touch with me.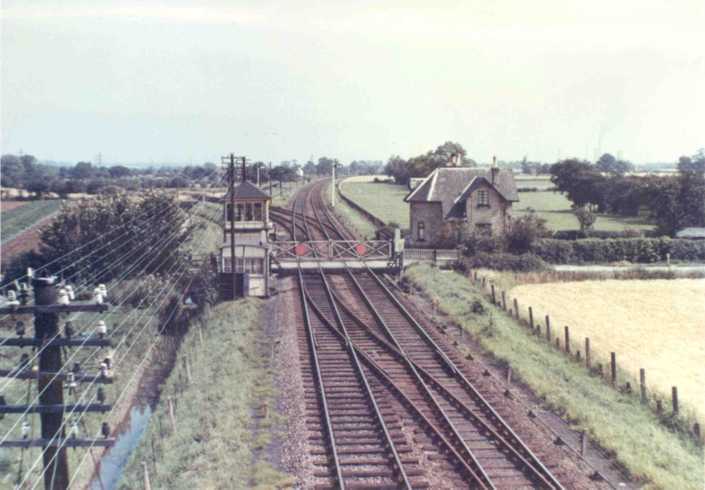 Fiskerton Junction - photographed from its Down Home signal (21) by John Rose in 1966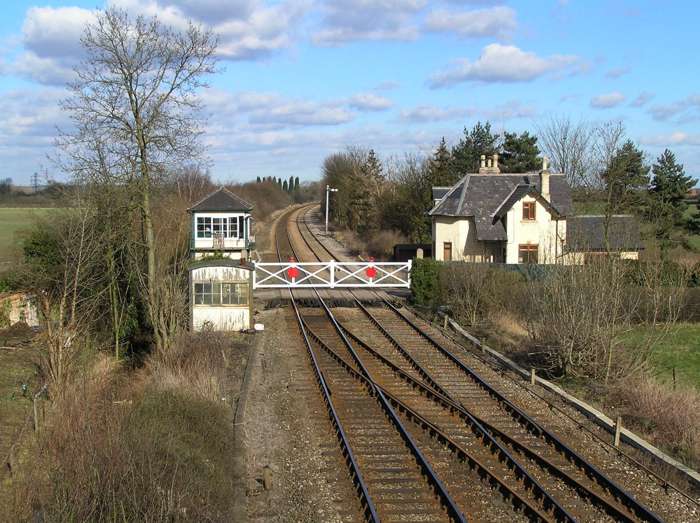 ... and photographed by an intrepid NR employee in 2005.
(

Any authorised volunteers fancy repeating the exercise Ten Years On?

)
Midland Railway signalling
Any student of Midland Railway signalling practice will be be incredibly well served by joining The Midland Railway Society. In the spirit of full disclosure, I joined the MRS to further my research and ended up as Secretary! This then led me to become Coordinator of the Midland Railway Study Centre at Derby, with its unequalled collection of Midland Railway information and documentation.
For anyone with an interest in history, not just railway matters, in the East Midlands, there are a large number of fabulous old photographs to browse and buy on the Picture The Past web site - highly recommended.
The Midland Railway - Butterley have, for many years, used the former Pye Bridge branch (including the sites of Butterley Jn., Butterley Station, Swanwick Jn., and Ironville Jn.) to recreate the unique aspects of Midland Railway signalling. You can read all about the signalling on the line on their website. While I'm at it, it is only fair to mention Peak Rail at Matlock and the Ecclesbourne Valley Railway at Wirksworth though neither says much about their signalling on their web sites.
The best place to see and experience Midland Railway signalling close-up is at the St. Albans South signal box. This 44 lever Type 2A box dating from 1892 is lovingly cared for by the St. Albans Signal Box Preservation Trust and with the inclusion of a computer driven simulator, has been restored to full working order - including the Rotary Interlocking Block. Regular open days are held when the public can visit and experience life inside a busy main line signal box. See www.sigbox.co.uk for more information.
Railway Signalling in general
For anyone with an interest in railway signalling, whether it be specific to a single area, UK signalling practice in general, or even around the world, membership of The Signalling Record Society is pretty-much essential. This very active group of enthusiasts and professionals are a really knowledgable and friendly bunch.
For more information and lively discussion about general signalling matters, I strongly urge you to go to The Signal Box. Its founder and webmaster, John Hinson, is a (now retired) signalman who signed more signal boxes than anyone else I know (except Pinkie of course!). Over many years John has worked exceptionally hard to make his web site the go to location for anything to do with signalling.
If you'd like to discuss matters specifically concerning subjects on this site, please contact me.
The latest updates to the site
October 2016
With the kind assistance of Dave Chambers, the Ripley branch article has been updated slightly.
January 2016
The "Sources Consulted at the National Archives" page has been refreshed and updated to include visits since March 2000 (when it was last updated!). The links to the MT6 sketches on that page have been repaired as well.
September 2015
Should you feel the need, the pages should now look a little better than they did before when printed (or saved as PDFs)
I have refreshed the page relating to Little Eaton on the Ripley branch (itself a new article), adding some "new" photographs and extra information.
August 2015
Regular visitors to the site will have noticed I have been gradually sprucing things up a little after a long period of what can only be described as stagnation. I have tried to bring all the content up-to-date and improve the consistency of presentation (and hopefully make all the pages "play nice" with modern web browsers). This has culminated with a complete refresh of this front page. All the material which was once here has been moved to their own pages, linked appropriately in the lists below. There are several bits & bobs of new material sprinkled around the site in addition to the highlights which follow...
I have added a page detailing the curious chronology of Coton Park Sidings (between Swadlincote Junction and Gresley on the Burton – Leicester line). This place is an eternal mystery; having four very distinct periods of existence. More-to-the-point, it seems that the box was never photographed, despite surviving as (comparatively) late as 1964. The page concludes with a heartfelt appeal for further information!
Here are the fruits of my North Staffordshire Sojourn in August.
The Small Print: The majority of photographs used on this site are not mine. Wherever possible the original photographer is credited and the image is used with permission. Where I have been unable to seek such permission, I sincerely hope that the photographer will acknowledge that the images are used in an educational spirit and absolutely no financial gain is involved. To that end, visitors may not reproduce any image from this site - in the event you wish to do so, please contact me and I will try and put you in touch with the person whose consent you need. As far as the text on the site is concerned, that is almost all mine. Unless otherwise indicated, Visitors are free to reuse any text or information they find on this site for any purpose. The only restriction is that I ask for an acknowledgement to www.derby-signalling.org.uk where applicable, and I absolutely insist on the courtesy of being informed of any such use if commercial gain is involved. Thank you.
---
Dave Harris, Willington, Derby, UK.
Email: dave@derby-signalling.org.uk
Site last updated Monday, 10 October 2016
This site does not use cookies.
FavIcon courtesy favicon.co.uk.