The Derby Area Signalling Project
Origin & Objectives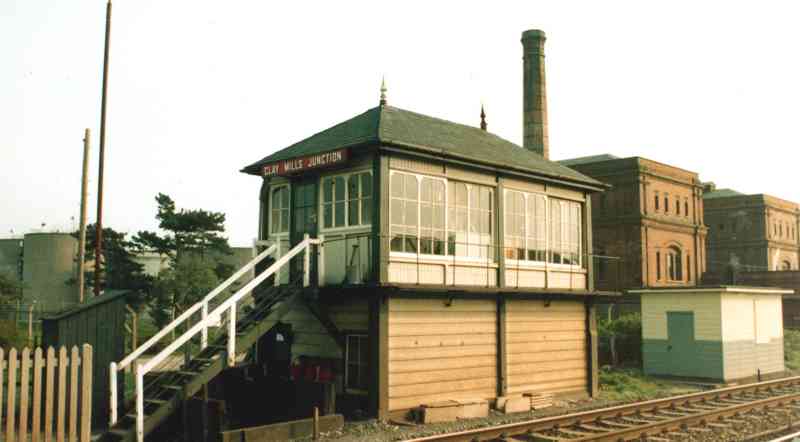 Clay Mills Junction signal box. This Midland Railway "Type 2b" signal box dating from 17th September 1899 survived the mass closures of mechanical signal boxes associated with Power Signalling in 1969. It was retained as a "gate box;" to control the level crossing barriers here. It finally succumbed to the installation of a cctv camera on 27th September 1987.

Photo courtesy N.H.Allsop

.
I have always been interested in railways and went through the obligatory number collecting phase, growing out of it about the time they stopped painting locos the proper shade of blue! Signalling has always been the area in which I found myself most fascinated which is probably due to many happy hours spent unofficially in boxes along the North Stafford during my youth.
This project was sparked by a rail trip in 1997 from Derby to Matlock. I began idly wondering about the pre-powerbox signalling trying to visualise where the signalboxes might have been sited. With the exception of spotting the pulley runs for Broadholme box over the Derwent bridge, I failed miserably. However, I was hooked!
The task - if that is the right word - I set myself was to research and detail the mechanical signalling within the area of Derby powerbox. I have also extended my 'patch' to include the NSR line as far as Uttoxeter as this is still manually signalled. The area also includes lines which didn't survive long enough to see power signalling, notably the GNR Derbyshire extension, the Butterley branch and the brewery railways of Burton on Trent - with all the crossings which once dominated the town.
It is no surprise, therefore, that I have identified over 250 different signal box locations within this comparatively small area. Thanks mainly to the Midland Railway's policy of building small boxes and replacing them with bigger structures when required, many of the sites had up to four different boxes on them over the years.
I have prepared a diagram which shows the principal signalbox sites and the boundaries of my area of interest...
Ideally, for each site I would like to be able to determine what was built where and when, the type and size of a particular box, what it looked like, how it was worked, what it controlled, who worked there etc. etc. I know that the information simply does not exist in many, many cases - but therein lies the challenge.
As a goal, I started off with the whimsical idea of writing a book on the subject. As I have got into the project, however, I found that I was enjoying the research for its own sake. The long term aim, therefore, is just that - long term - and I'll worry about it another day!
I am always pleased to hear from anyone - especially anyone who has any knowledge of signalling in the area or who may have source material from which I may be able to glean some extra information.
---
Dave Harris, Willington, Derby, UK.
Email: dave@derby-signalling.org.uk
Page last updated: Sunday, 30 August 2015